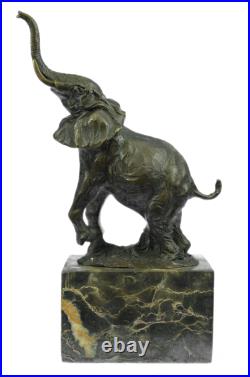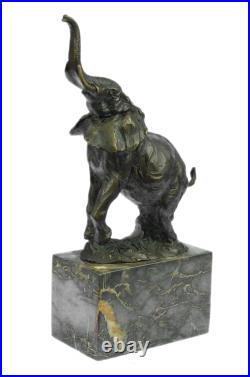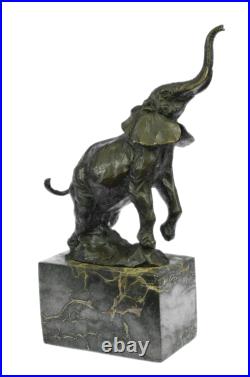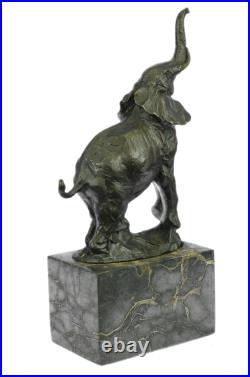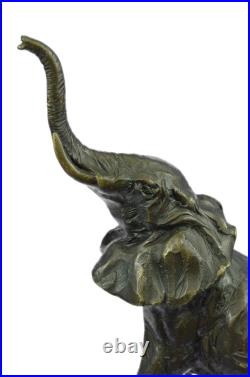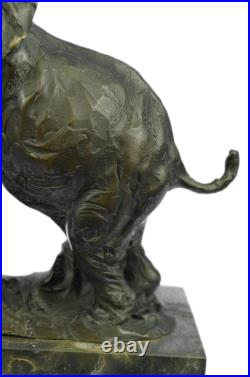 Bronze Sculpture, Hand Made Statue Art Nouveau Signed Milo Abstract Elephant. The Elephant Can Be Envisioned Tracking Slowly And Majestically Across The Ceaseless Dryness Of A Plain In Search Of A Watering Hole Or The Shade Of Trees. He Pulls His Trunk Upwards. He Pulls His Trunk Outward As He Passes On By With A Tender Passivity To His Eyes. For Years The Elephant Has Been Known As A Sacred Animal In The East. As The Largest Animal To Walk The Earth, The Elephant Is Known As A Symbol Of Strength And Power. In Buddhist Cultures, White Elephants Are Symbolic Of Patience And Wisdom. The Chinese See Elephants As A Symbol Of Energy, Strength, And Power. Ganesha Is A Hindu Deity With An Elephant'S Head. The Bronze Sculpture Was Molded Using The Ancient Method Of Lost-Wax Casting And Stained With A Brown Patina Finish For Preservation. The Elephant Is Mounted Upon A Variegated Of Brown Marble Base And Signed By Artist Milo. Condition: This Sculpture Is In Perfect Condition. Bronze Dimensions With Marble Base:Height 12″ X Width 10″ Marble Dimensions: 5″ X 3″ Height Without Base: 9 Weight : 10 Lbs Inventory : 53K2734135. SIZE:12″X10″ (30.48×25.4 Centimeters). 12″X10″ (30.48×25.4 Centimeters). We advise you to group your items in one order. Your package will be dispatched at your own risk, but special care is taken to protect fragile objects. Boxes are amply sized and your items are well-protected. CUSTOM WORKS OF ART ARE NON-REFUNDABLE. The Art of Lost Wax. Lost wax casting has been around for thousands of years, yet few people understand how the process actually works. Although mechanization has facilitated the lost wax process of bronze casting, the procedure is basically the same as that used by the Chinese when they first developed the process in the 2nd millennium BC. First the artist creates an original sculpture out of any number of media, including stone, wax, clay, wood and pottery. This image is coated with a silicone rubber molding material that makes two rubber mold halves (each rubber mold has a front and a back piece). A fiberglass outer shell is added to the back of each mold so it retains its shape and rigidity during subsequent uses. These molds are the only components that are ever re-used in the casting process. All other components are re-created for each casting. Once the wax has cooled, the mold is peeled away, yielding a wax image (the wax positive) duplicating the original sculpture. This image must then be "touched -up" to remove any seam lines, scratches or other flaws, as well as to recreate any pattern or texturing that was lost or damaged when the wax was made. The quality of the finished bronze relies on a clean, high quality mold and an impeccably recreated wax image that is as near to perfect as possible. The next step, "gating", is the application of a series of tubes and funnels that allow the molten bronze to flow through to the bottom of the ceramic shell and the hot gases to escape at the same time. These sprus are created by attaching wax rods to the finished wax form at strategically spaced locations. After the gating is completed each wax form is dipped in a liquid ceramic silica-sand compound so it is completely coated inside and out. Holes called "patches" have been cut into the wax to allow an entrance to the inside of the form. The form is subsequently dipped 6 to 12 or more times over a period of several days until the desired shell thickness is achieved. Once these ceramic shells have dried thoroughly the pieces are placed into an autoclave and the wax is melted out (hence the term "lost wax"), to be reclaimed and used again. The shells are then cured in a kiln so they will withstand the temperature of the molten bronze being poured into them. Bronze ingots are melted to a temperature of approximately 2000°F and poured into the cured ceramic shells. As the sculpture cools the ceramic shell begins to pop away from the bronze. This shell will be completely broken away, using a hammer and chisel, before the superfluous metal materials are cut away. The casting is then sandblasted in preparation for metal finishing. Any pieces of a sculpture that were cast separately are welded back onto the sculpture and any seam lines or other imperfections are removed or "chased". Finally, any texturing that was lost or damaged in the casting or welding process is recreated. The sculpture is then polished in preparation for application of the patina. The different colored finishes that are possible on cast bronze sculptures are called patina's. The various colors, patterns and textures obtained in the patina process are achieved through a combined application of chemicals and heat, augmented by hand stippling, or spraying with an air brush, and sealed with lacquer and waxes. Most bronzes are part of a "limited edition" containing a fixed number of castings. This edition number is decided by the artist, usually after the first piece has been cast, and individually stamped on each piece i. 1/100 thus concluding the process of bronze sculpture production. Hand Made Lady Yoga Meditation Bronze Sculpture Art. Miniature Vienna Bronze Rolls Royce By Jean Patoue Bronze Sculpture Statue. Signed Original Artwork by Milo Female Girl Lady Violin Player Bronze Sculpture. Abstract Modern Art Mid Century Nude Naked Male Athlete Bronze Sculpture Sale. Vintage Lorenzl Diane Hunter Bronze Sculpture. Signed Original African Rhino Wild Life Book End Nr. Solid Baseball Real Player Bronze Statue Sculpture Art Figurine Sports Figurine. Handcrafted 3d horse painting home goods Horse painting metal Horse wall art Joc. Handmade Greyhound Retired Rescued Adopted Racing Dog Sighthound Bronze Statue. Mene Pferd Fohlen Gro Und Schwer Sculpture Horses Statue. Bronze Sculpture Large Falcon American Eagle By Moigniez Marble Base Figurine. Signed Bronze Winged Statue, "Gloris Victis" Bronze Sculpture Mythical Figure. African American Male Performer Singer Bronzed Sculpture Figurine Statue Artwork. Modern Abstract Charging Bull Sculpture By Milo Figure Hot Cast Lost Wax Marble. Handmade Bronze Statue Male Nude Gay Interest Bodybuilder Muscular Figure. The item "Bronze Sculpture, Hand Made Statue Art Nouveau Signed Milo Abstract Elephant" is in sale since Monday, December 7, 2020. This item is in the category "Art\Art Sculptures". The seller is "bronzioni_galleries" and is located in New York, New York. This item can be shipped worldwide.
Type: Statue
Listed By: Dealer Or Reseller
Date of Creation: 2000-Now
Model: BR1AL273
Region of Origin: Europe
Medium: Bronze
Subject: Animals
Size: 12″X10″ (30.48×25.4 Centimeters)
Weight: 10 lbs.